Complete Lawn Care Services in Akron
We all want a healthy, green lawn that we can be proud of. Unfortunately, this can take hours upon hours of work that most people don't have time for. If you don't have the time to put into your lawn, let Dyna-Green do the work for you!
We offer a wide range of lawn care services in Akron, including:
Fertilization
Lawn Aeration
Weed control
Grub Control
And more!
Our Satisfaction Guarantee
When you work with us, you're getting lawn care service that you can feel good about. We proudly offer our customers a 100% satisfaction guarantee. If you aren't 100% satisfied with our services for any reason, get in touch with us and we'll be there to make it right!
Image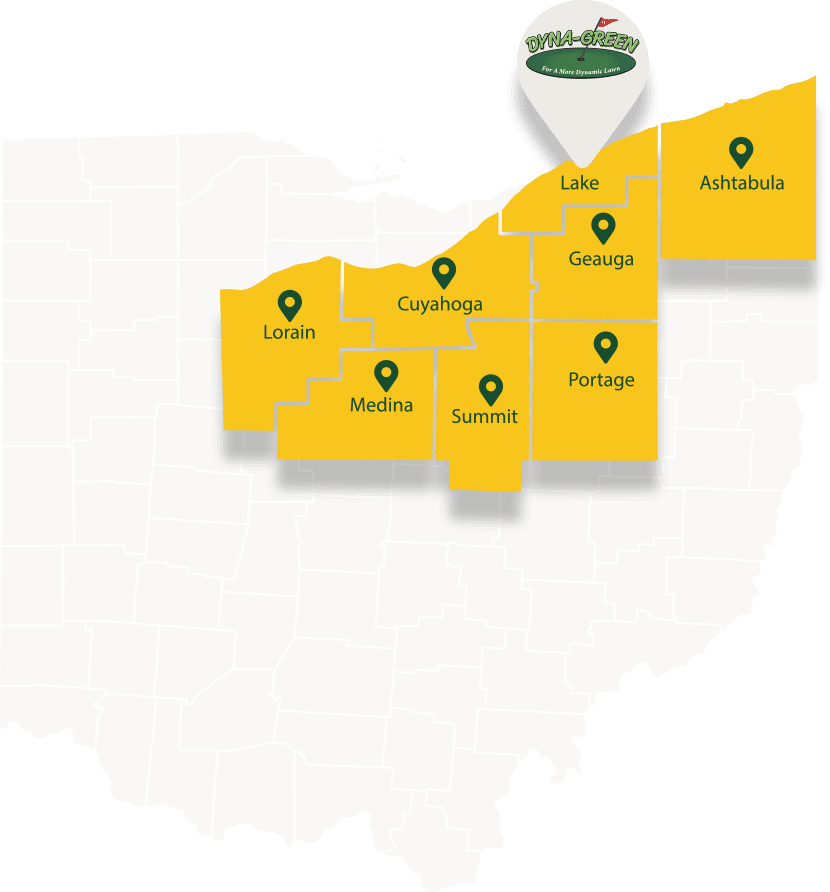 Lawn Aeration in Akron
Our lawn aeration services in Akron provide a range of benefits that will help you achieve healthier and more vibrant turf. Here are the key benefits:
Our lawn aeration service promotes healthier roots by creating channels in the soil for better air, water, and nutrient circulation.

Dethatching allows your lawn to breathe and grow more efficiently.

Our treatments help your turf stay healthier and more resistant to stressors.
By choosing our lawn aeration service, you'll experience greater rooting, deeper nutrient release, and better overall soil health. Contact our lawn aeration team in Akron today and unlock the full potential of your lawn
Tree & Shrub Care in Akron
Increase your home's value with our tree and shrub care service in Akron. Our team of tree care experts proudly offer:
A free inspection to assess the health of your trees and shrubs.

Cco-friendly treatments to ensure the health and longevity of your trees and shrubs.

And more!
Investing in tree and shrub care not only beautifies your property, but also has significant benefits such as preventing damage to your property and improving the overall safety of your outdoor space. Contact us today for the best tree care in Akron!
Lawn Fertilization in Akron
Is your lawn struggling to grow? Contact Dyna-Green today to discover the benefits of our professional lawn fertilization services in Akron! Benefits of lawn fertilization include: 
Year-round nutrients that your lawn can count on.

Healthy appearance across all four seasons.

Greater resistance to diseases, fungi, and pests.

Healthy roots that absorb nutrients and water efficiently.
Don't miss out on the chance to have a lush and vibrant lawn. Our lawn fertilization services provide your yard with the essential nutrients it needs to thrive all year long. Let us help your yard reach its full potential. With our guaranteed results, you can have peace of mind knowing that your lawn is in expert hands!
Weed Control in Akron
Are weeds taking over your lawn? Our weed removal services in Akron are here to help! With our environmentally-friendly weed treatments, we can get rid of weeds and provide year-round weed control. Here's what you can expect from our top-notch lawn weed service:
Ongoing monitoring: We'll continuously keep an eye on your lawn to prevent weeds from germinating and taking over.

Effective weed treatment: Our expert technicians use EPA-approved herbicides to ensure the best results.

Customized solutions: We understand the most common weeds in Akron, and we tailor our weed control techniques to target them effectively.

Prompt and professional lawn spraying: Our team will promptly apply the necessary treatments to eliminate weeds and keep your lawn looking its best.
Say goodbye to those pesky weeds and hello to a beautiful, weed-free lawn! Trust our weed control in Akron! Don't wait, contact us today to unlock the power of a pristine lawn!