Lawn Care in Willoughby
Your yard should be a source of pride, not of unending stress and embarrassment. Properly cared for, your grass can help your home stand out from the crowd. Getting it there however, can amount to a full time job that you don't have time for. If that's the case, look to our lawn care in Willoughby to provide you with: 
Fertilization

Weed control

Grub Control

Lime treatment

Fungus, disease, and pest management

And much more!
Image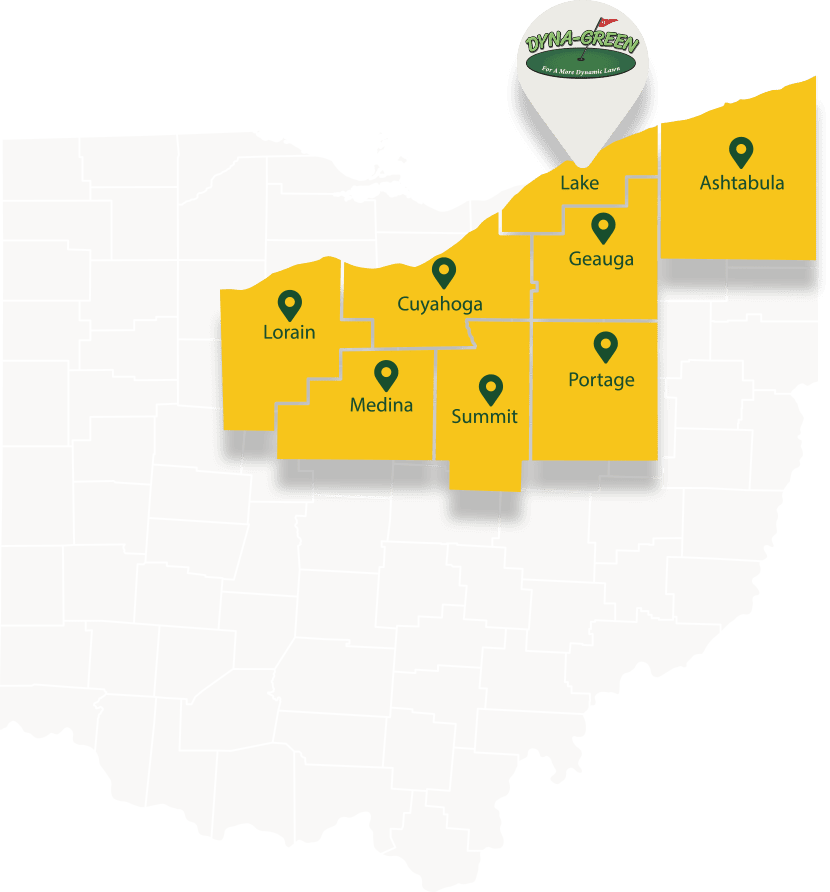 Organic, Eco-Friendly Service
Since we first began offering lawn care in Northeast Ohio, environmental stewardship has been central to our mission. To help us accomplish that while still achieving the outstanding results that our customers expect, we use only organic and eco-friendly products. On top of that, our approach is designed to keep your loved ones safe and healthy, preserving your peace of mind at every step. So if you're ready for a service that you can feel confident about, give us a call.
Our lawn care in Willoughby includes:
A free yard inspection

to assess your specific needs.

A customized plan

that we'll design to address your concerns.

Service every 5-7 weeks

with a recurring plan.

Guaranteed satisfaction 

Free retreatments

if you aren't happy with our results 

And more!
Trust our Highly-Trained Technicians
At Dyna-Green, we take immense pride in the team of technicians that we've assembled and the training program that makes them the best in the region. With a heavy focus on hands-on experience and continuing education, you can count on our team to do the job right every time, no matter the challenges your yard presents. Find out what sets our team apart and book your first service today!
Lawn Aeration in Willoughby
Even if your grass is well-fed and meticulously cared for, there will be times of the year when it seems to be underperforming. When this happens, though, there's no need to panic because proper lawn aeration in Willoughby can turn it around in a hurry. Done every fall by a trained expert, this most essential of lawn care services can help your grass in a number of ways, including: 
Loosened soil which lets your grass' roots grow deeper than ever.

Increased access to essential water, nutrients, and oxygen.

Healthier grass which can resist fungus, disease, and weeds.

Reduced levels of standing water, which also protects from fungus.

A fuller, more vibrant appearance that will last all year! 
Lawn Fertilization in Willoughby
How can your grass be expected to thrive if it isn't even being given proper food? Put simply, it can't. Instead of watching it struggle for underwhelming results, give it a boost with our lawn fertilization in Willoughby! With seasonally-adjusted applications from trained experts, you can expect the following when you sign up for a recurring fertilizer program: 
High-quality nutrition

that will keep your grass healthy all year. 

A stronger plant from root to stem

which can resist weeds, pests, and disease. 

Healthy roots

that absorb nutrients at an increased rate. 

An

Eco-friendly weed killer

included with every application. 

Seasonal adjustments

to address your grass' nutritional needs at all times of year.  

And more!
Tree and Shrub Care in Willoughby
You might not know it, but your ornamental plants are always working hard for you. Whether it's providing your yard with comfortable shade, preventing soil erosion, replenishing fresh air, or even increasing your home's resale value, they always have your back. So why not thank them for all that they do with the best tree and shrub care in Willoughby? At Dyna-Green, we bring more than 25 years of experience into your yard, making us a lawn care company that you can count on. So if you're unhappy with your yard's appearance or just want to give your trees and shrubs a hand, give us a call and you'll receive:
A full and through inspection from an experienced lawn technician.

Deep root fertilization to provide your ornamentals with year-round nutrition.

Seasonally-adjusted care from Northeast Ohio's most-trusted experts.

Long-lasting and reliable protection from insects, fungus, and disease. 

And so much more to provide trustworthy, reliable tree and shrub care!
Get the Best Price Every Time!
At Dyna-Green, we take your budget seriously and will always go out of our way to make sure that you're getting exceptional value for money. With that in mind, we're proud to offer a full price match guarantee if you find any of our services offered for less in any of our service areas! When it comes to getting the very best care for your lawn in Mentor, choose the company that goes above and beyond for you.
Testimonials
Read What Our Clients Are Saying