Image

Keep Unwanted Pests Out of Your Home for Good
Satisfaction and Price Match Guarantee
Perimeter Pest Control in Wickliffe, OH
When done properly, pest control starts outside of the home. After all, where do you think those nuisance bugs and other creepy crawlies come from? Here at Dyna-Green, we start by spraying around the house 3 feet up and 3 feet out creating a resistant barrier that even the most stubborn home invaders won't be able to get past.
Our perimeter pest control in Wickliffe will protect your home from:
Ants

Beetles

Centipedes and millipedes

Spiders

And many others!
Trained, Experienced, and Trusted Technicians
Keeping critters out of your home is important and here in Wickliffe, each season brings its own unique bug-related challenges. It follows then, that you need a true expert on your side if you want to keep your home clean and safe from creepy crawlers all year. At Dyna-Green, that's exactly who will show up at your front door every time you give us a call! When you sign up for our perimeter pest control, you can expect:
A full yard and home inspection

to develop a plan that works for you. 

4 treatments each year

for long-lasting relief.

Products

that won't harm your soil or plants. 

Contact-free options. 

Free re-treatments

if they persist.

And much more!
Reduced-Risk Product For Your Peace of Mind
Unwanted pests cause enough stress on their own. Why then, should getting rid of them cause any more? At Dyna-Green, we don't think it should! So to help maintain both your peace of mind and your loved ones' safety during our treatments, we promise to use the safest and greenest products we can find while still being effective with your yard and pricing. Don't settle for anything but the very best for your family and choose the company that puts your well being first. 
Save 20% on your first treatment
Guaranteed Satisfaction with Full Price Matching
Since 1995, we've maintained our reputation as one of the most trusted names in both lawn care and pest control by prioritizing both our customers' satisfaction and budgets. We are confident that our perimeter pest control can eliminate 80% of your creepy crawlers and make you satisfied with our work. In addition, we'll always match our competitors' prices, so let us know if you've seen the same service for less somewhere else and we'll make it right. 
Image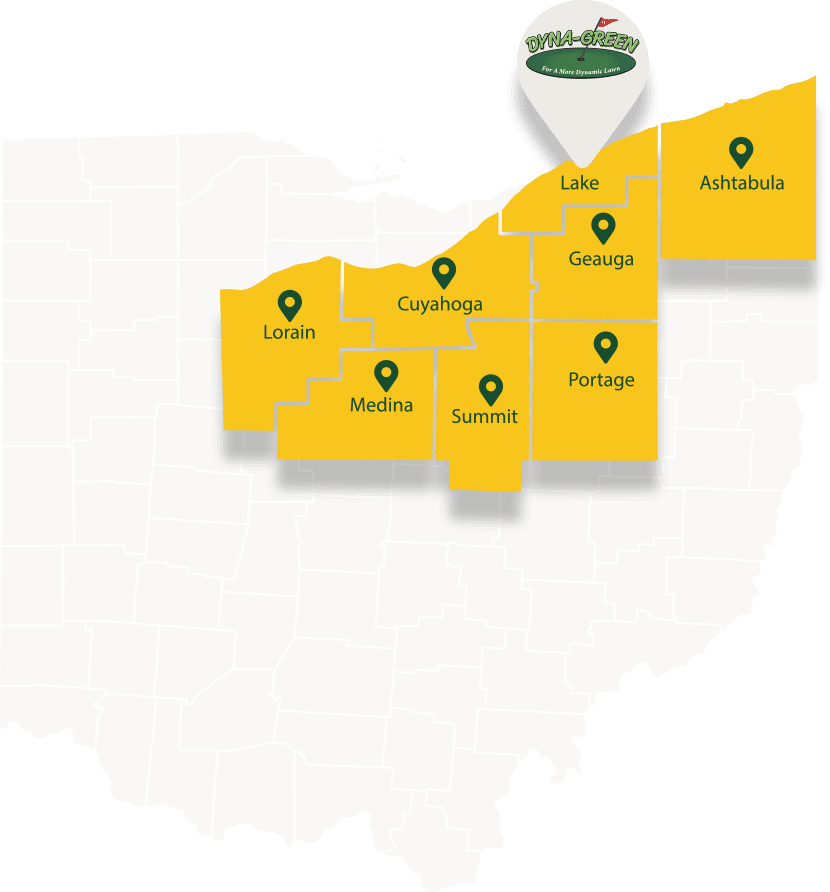 Local Lawn Care Experts
Dyna-Green Provides Lawn Care Services Around Wickliffe
We have delivered high-quality, organic-based lawn fertilization services, tree and shrub care services, seeding and overseeding services as well as perimeter pest control services to the Greater Cleveland area since the early 80s.