Image

The Best Curb Appeal With Our Aeration and Seeding Service
Satisfaction and Price Match Guarantee
Aeration and Overseeding in Wickliffe, Ohio
No matter how attentive you are to your yard, every now and then it will need a little extra help. It's natural for your grass to seem a little worn out at times but even when that happens, you don't just have to accept it and move on. Instead, look to our lawn aeration in Wickliffe to give your lawn long-lasting and numerous benefits!
Performed each fall, our service will provide your grass with:
Loosened soil

which allows roots to grow freely.

Easier access to

water, oxygen, and nutrients

.

Reduced levels of standing water

on your lawn.

Greater

resistance to diseases, fungi, weeds, and pests

.

A thicker, more full appearance

all year. 

Reliable and robust growth

during spring and summer.

And much, much more!
Count on Our Outstanding Lawn Technicians
At Dyna-Green, we understand that a lawn care company is only as good as the people who carry out its services and we're proud to have assembled a truly outstanding team. Our lawn care providers receive industry-leading training and continuing education on the most up-to-date methods in order to provide you with the results that you deserve.
When you hire us for your lawn aeration in Wickliffe, you can expect:
A thorough inspection

of your outdoor spaces

from a local expert.

Dependable, prompt, and friendly service

each time. 

Organic and eco-friendly

products

for your safety and peace of mind. 

Free retreatments

if you aren't satisfied with our service.

And much more!
If you are interested in aerating your yard at any time of the year, we also offer liquid aeration that will provide coverage for your entire property. This requires no plugging throughout your yard, but still receiving efficient root development.  Another added bonus to liquid aeration is not having to mark your invisible fence or sprinkler heads.
Your Satisfaction and the Best Price Guaranteed
When you want to give your yard a much-needed boost to carry it through the fall and winter, you need to be able to depend on whoever you hire to do the job right. That's why we at Dyna-Green back each of our services with a 100% satisfaction guarantee! In addition, we're proud to offer a full price-match guarantee. So if you've seen the same service for cheaper somewhere else, just let us know and we'll match it every time. We want to be the lawn aeration company you can trust time and time again!
Why Aeration is Important
It's easy to focus on watering, fertilizing, and mowing. And while all of those aspects of lawn care are important in their own way, high-quality aeration and seeding are the foundations of gorgeous grass. Without properly loosened soil, your grass won't have the level of nutrition needed to reach its full potential, and absent diligent overseeding, your grass will always be vulnerable to thinning. Lawn aeration is vital to accruing healthy turf, and your yard works hard for you and deserves the very best, so give it the extra help it needs with the expert technicians at Dyna-Green!
To provide the best results for your lawn when warmer weather returns, we offer aeration in the fall and seeding for a couple of weeks during the fall. 
Image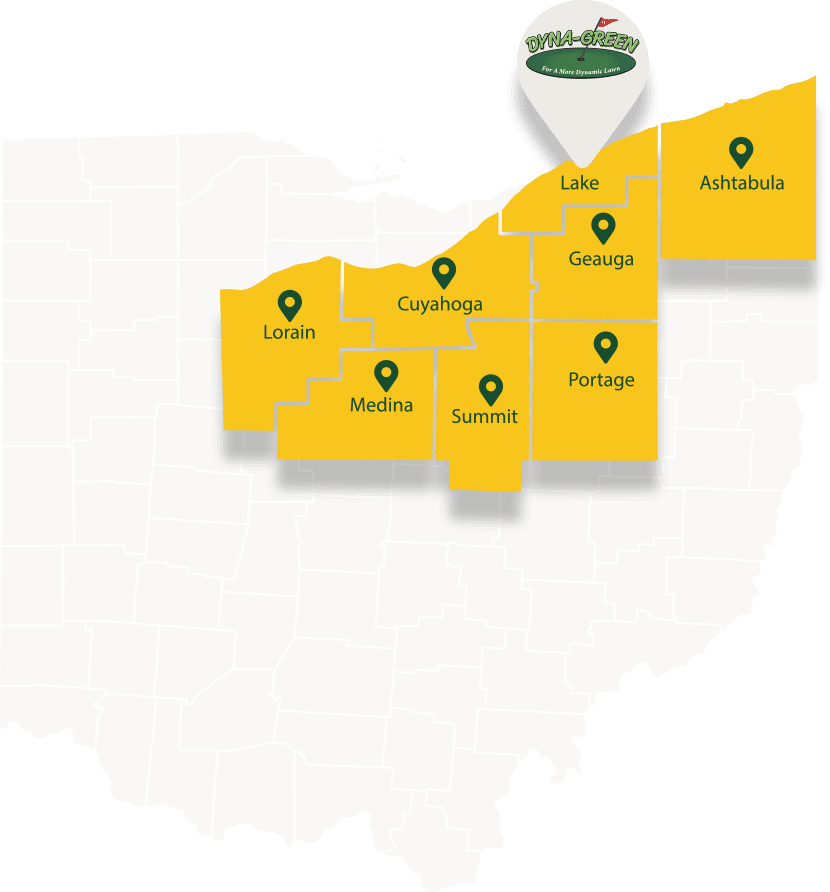 Local Lawn Care Experts
Dyna-Green Provides Lawn Care Services Around Wickliffe
We have delivered high-quality, organic-based lawn fertilization services, tree and shrub care services, seeding and overseeding services as well as perimeter pest control services to the Greater Cleveland area since the early 80s.