Image

Get The Best Organic Lawn Care in Northeast Ohio
Satisfaction and Price Match Guarantee
Lawn Care in Northeast Ohio
Caring for a yard on your own is basically a full-time job. Between routine maintenance, upkeep, and everyday management, the hours needed to get the yard of your dreams can add up quickly. We want to make sure you are getting the yard you deserve, and that is why we also offer a 100% satisfaction guarantee on select services to give you the best curb appeal around! So if you want that verdant, green grass but just don't have the time, don't despair. Instead, contact Dyna-Green to book our lawn care in Northeast Ohio which provides:
Fertilization

Deep root feeding

Weed control

Lime treatment

Fungus, disease, and pest management

Aeration and seeding 

Grub control

And more!
Giving you the Healthy, Beautiful Lawn you Deserve
If you want green grass that you can be proud of, you need an expert on your side. And when you partner with Dyna-Green, that's exactly what you're getting! We're Northeast Ohio's most trusted name in professional lawn care, utilizing the most up-to-date and reliable methods that get you the results you need. We're ready to go to work in your yard, so give us a call today!
With our lawn care services, you can expect: 
A full inspection of your outdoor spaces

from a local expert.

A custom-designed lawn care plan

to address your needs. 

Lawn maintenance services every 5-7 weeks

, ensuring year-round results.

FREE retreatment

 service. If you have any issues between treatments, we will fix the issue with the necessary service needed. 

Free service calls with 48-hour response time. 

And much more!
Organic and Eco-Friendly Service
When properly cared for and managed, your yard has the potential to contribute to your local environment in a wide variety of positive ways. To help it do that, we use only the highest-quality, organic, and eco-friendly products both on and around your lawn. Responsibility, environmental stewardship, and dedication to achieving maximum results for you are all cornerstones of our business and we're looking forward to showing you the difference they'll make. 
Weed Control in Northeast Ohio
At first glance, weeds may seem harmless enough, but a deeper look reveals just how insidious they are. These aggressive yard invaders rob desirable plants of precious growing space, water, and nutrients, eventually taking over your yard altogether. Worse still, they move quickly, often establishing substantial populations in just a matter of days. With our weed control in Northeast Ohio however, your yard will stay safe from:
Dandelions

Chickweed

Clover

Henbit

Nutsedge

Thistles

And many others
Lawn Fertilization in Northeastern Ohio 
Left to its own devices, your grass can only hope to achieve so much. Sure, watering, mowing, and sun exposure will keep your grass healthy enough but for it to truly thrive, additional help is needed. Here at Dyna-Green, that comes in the form of our tried-and-true fertilizer treatments in Northeast Ohio. With flexible plans and the highest-quality organic products, our lawn fertilization services include: 
Year-round nutrition that you can count on to last. 

A full and healthy appearance across all four seasons. 

Greater resistance to diseases, fungi, and pests.

Healthier roots that absorb nutrients and water more efficiently. 

Included eco-friendly weed killers. 

A healthy yard that reaches its full potential, guaranteed. 

And so much more!
Learn About Our Fertilizer Programs
Grub Control in Northeast Ohio
Unseen and often unnoticed until it's too late, grubs are a menace to even the healthiest lawns. These small larval stage beetles can lie dormant in your soil for months, after which they wake up and begin to eat voraciously, causing serious damage to your grass in the process. Our grub proofing will treat grubs and prevent any from reoccurring in the future. If you happen to see these pests after our service, we will retreat the ones that survived the first service. While it's easy to overlook these subterranean nuisances, our grub control in Northeast Ohio will stop them in their tracks every time. 
You may have a grub infestation if you notice:
Patches of thinning, yellowing, or dying grass, placed irregularly around your lawn. 

Areas of spongy or soggy-feeling turf which is easy to uproot.

An increased presence of moles, raccoons, and other burrowing animals.

Greater levels of vulnerability to pre-existing conditions such as drought. 
Lime Treatment in Northeast Ohio
Part of what sets us apart from our competition is our level of attention to detail. To give you the healthy and vibrant grass you've always wanted, we get into the nitty-gritty, honing in on your yard down to a chemical level. Our reliable and effective lime treatments in Northeast Ohio will give your soil a balanced, healthy pH, setting your grass up for year-round success. We will also add treatments that are not readily available in fertilizer to make sure your yard can grow as healthy as possible. Don't settle for a lawn care company that won't go the extra mile to give you the grass you've always wanted. Instead, choose the team that puts the most advanced treatments to work for you!
Image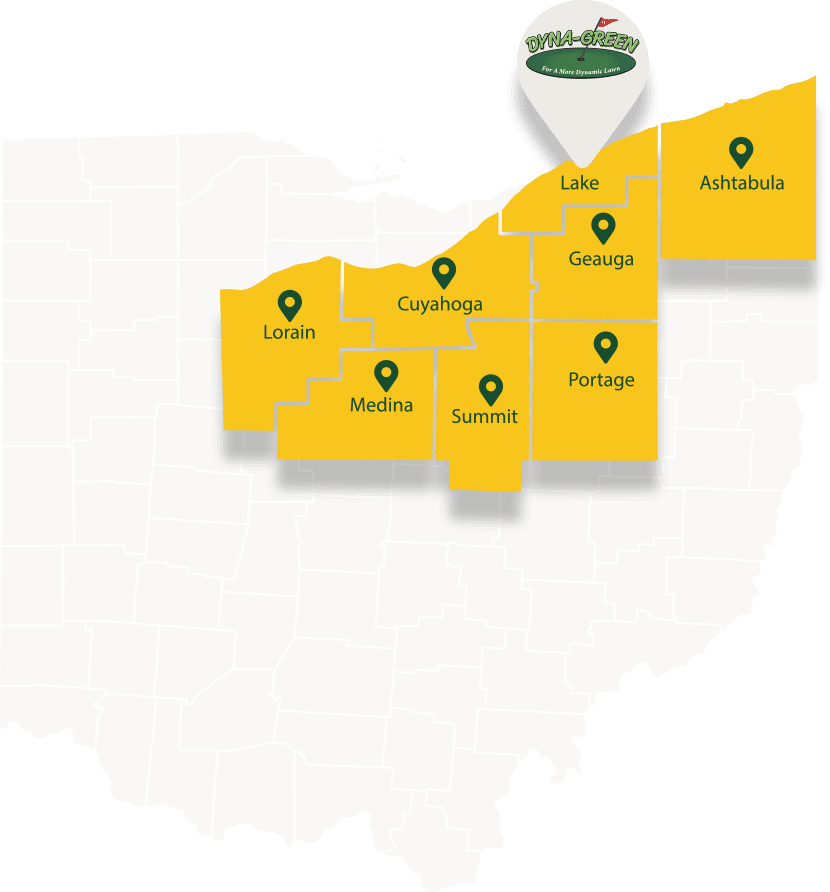 Local Lawn Care Experts
Dyna-Green Provides Lawn Care Services Around Wickliffe
We have delivered high-quality, organic-based lawn fertilization services, tree and shrub care services, seeding and overseeding services as well as perimeter pest control services to the Greater Cleveland area since the early 80s.