Lawn Care in Strongsville
Everyone wants to feel good about their yard, but getting it to that point can be overwhelming. Save yourself the laborious undertaking and receive lawn care in Strongsville from the local experts at Dyna-Green! With our technicians on your side, you can rest assured that your grass' every need will be addressed, including:
Fertilization

Deep root feeding

Weed control

Lime treatment

Fungus, disease, and pest management

Aeration and seeding 

Grub control

And much more!
Image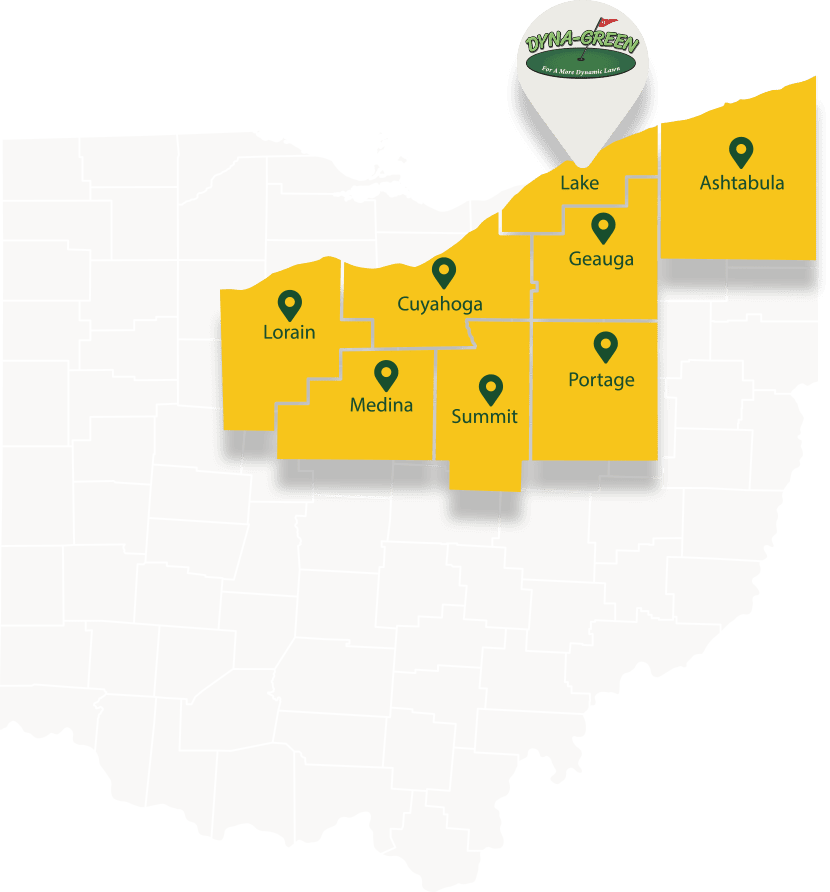 Technicians You Can Trust
Here at Dyna-Green, we're proud to offer industry-leading training and continuing education, both of which add up to make our lawn care technicians the best in Northeast Ohio. Why would you trust anyone but the very best to go to work in your yard? After all, your grass works hard for you all year and deserves the extra love and attention that we're famous for providing on every job. So schedule your first service today to receive:
A free inspection of your yard

to determine your needs.

A customized plan

, designed by a local expert. 

Eco-Friendly and sustainable

products and techniques. 

Service at 5-7 week intervals

to ensure results that last year-round.

Guaranteed satisfaction

and

free retreatments

if you aren't happy. 

And more!
Always Get the Best Price - Guaranteed
Giving you the best value for money is central to everything we do. Unlike some of our competitors though, we're willing to go the extra mile to make that happen. Our full price match guarantee means that if you see the same service for less somewhere else, we'll make it right with no questions asked. Choose the lawn care company that puts your hard-earned money first. 
Lawn Aeration in Strongsville
Simple, often overlooked, but incredibly effective, there's no service more impactful than our lawn aeration in Strongsville. In fact, we're so proud of our service and so sure that it'll work that we strongly recommend it to every homeowner in the area, regardless of their yards health. Applied once a year each fall by a qualified professional, lawn aeration can positively impact your grass in a multitude of ways, including:
Loosened soil which allows for effortless and deep root growth.

Increased water, oxygen, and nutrient levels for your grass. 

Greater resistance to pests, disease, fungus, and even weeds.

Decreased levels of standing water on your lawn, even after heavy rains.

A fuller, healthier appearance all year and long-lasting health from root to steam. 

And many others from an experienced lawn aeration company!
Lawn Fertilization in Strongsville
Your yard is so much more than a patch of grass that sits around your home. It's a complex, self-contained ecosystem with varied and constant needs. Chief among those needs is quality nutrition. That's exactly where our lawn fertilization in Strongsville can help. Without access to proper nutrients, your grass can't be expected to reach its verdant, healthy potential. So if you want to get the grass of your dreams, let us provide you with:
Year-round access to

quality soil nutrition

. 

Healthier grass

which can resist disease, fungi, and weeds. 

Stronger roots

that absorb nutrients effectively all year. 

Eco-friendly weed killers

included with every application. 

Seasonally-adjusted treatments

for maximum results. 

And more!
Tree and Shrub Care in Strongsville
Who doesn't love a yard full of tall, healthy trees and robust shrubs? As a locally-owned and operated lawn care company, we at Dyna-Green can help you achieve this! But getting your ornamentals to a place where you can rely on them to stay healthy and gorgeous all year takes the kind of work that you might not have the time for. If that's the case, you don't have to settle for a yard that you don't love. Instead, you can enlist our tree and shrub care in Strongsville to give you the outdoor spaces that you've always wanted. Why should you invest in your showpiece plants?
Proper tree and shrub care in Strongsville can: 
Increase levels of shade

in your yard and fresh air around your home.

Prevent soil erosion

.

Give your yard that

complete and manicured look

that you've always wanted.

Increase your home's resale value

by as much as 20%.

And much more!
Your trees and shrubs are an investment in your future, as well as a way to keep your yard looking its best. So let our trained and experienced lawn care technicians give them a hand today!
Perimeter Pest Control in Strongsville
Keeping ants, spiders, and other insects out of your home is important, but it's not always easy. If store-bought treatments aren't doing the trick, trust our perimeter pest control in Strongsville. We create a protective barrier around your home for long-term results and expected pest prevention—even the most stubborn pests don't stand a chance! 
Our perimeter pest control in Strongsville includes:
Treatments that are tailored to your unique needs.

4 perimeter foundation applications per year. 

Products that are safe for your family and landscape.

Service calls between scheduled visits if pests persist.
Safe and Organic Products for Your Peace of Mind
Since 1995, the use of family-friendly, organic lawn care products has been a cornerstone of our service. We're committed to a responsible, safe, and eco-friendly approach to yard maintenance that you can still trust to achieve the results that you need. Caring for your grass doesn't have to come at the expense of your loved ones or the surrounding area and when you hire Dyna-Green for your yard care needs in Strongsville, it never will!
Looking For Lawn Care Technicians Near Strongsville, OH?
Check out what other cities we service in the Greater Cleveland area:
Testimonials
Read What Our Clients Are Saying