Lawn Care in Mentor
We know the hassle of lawn care, so let our technicians give you the healthy lawn you've always wanted! Whether you have stubborn weeds, brown patches, or an insect problem, Dyna-Green has your answer. We take care of all the hard work for you, so all you have to do is show off your new curb appeal to the local community. 
Our lawn care in Mentor includes:
Lawn fertilization

Deep root feeding

Weed control

Lime treatment

Fungus disease

Aeration and seeding

And more!
Image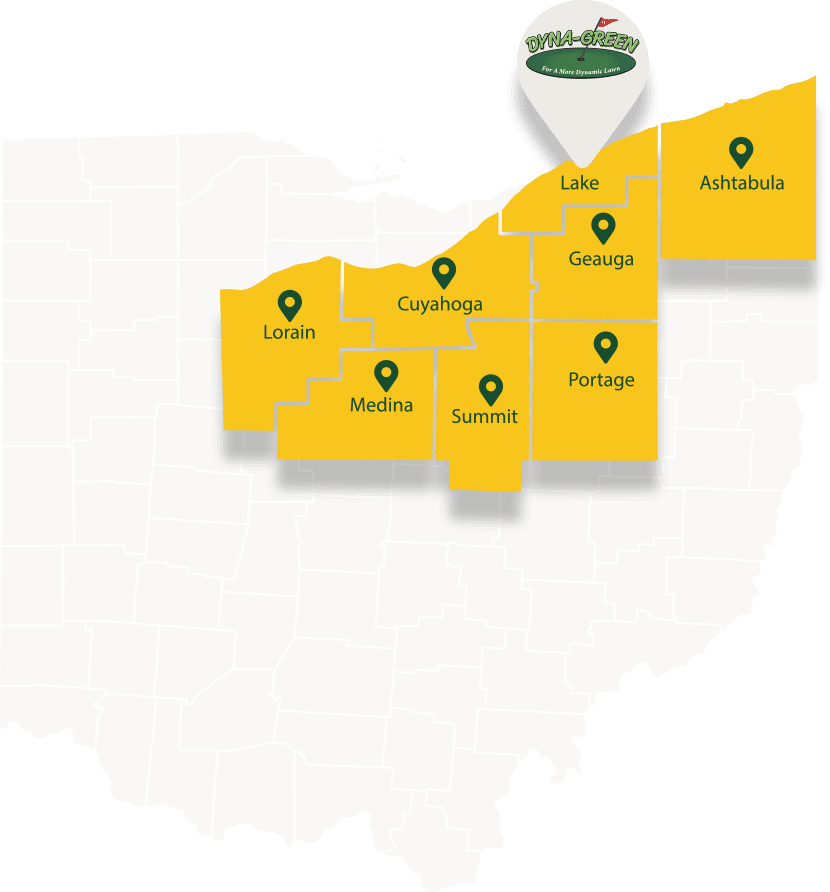 Custom Lawn Care That's Convenient For You
Your yard may look similar to your neighbor's, but that doesn't mean it has the same needs. To ensure you get the best results possible, we customize our lawn care based on your property's specific needs. Our expert technicians look at the type of grass you have and identify any problem areas.  
With our lawn care in Mentor, you can expect: 
A

thorough inspection

to assess your lawn's current needs.

Customized treatment

based on our findings and any concerns you have.

Regular service visits

every 5-7 weeks.

Free re-treatments

if you have any issues between visits.
See Results with Eco-Friendly Products
If you're looking to get a healthy, vibrant yard while still looking out for the environment, trust our lawn care in Mentor. Environmental stewardship is a major part of our business, so we only use ingredients that are organic and eco-friendly. We utilize high-quality products, only use pesticides when necessary, and always give you the results you want. There's no better lawn care company than Dyna-Green, so call today and get started!
Lawn Aeration in Mentor
If your grass is looking lackluster, the culprit might be compacted soil and a lack of nutrients. Soil naturally compacts over time due to heavy rains, foot traffic, and improper maintenance, and it can cause your grass to become patchy and vulnerable to disease. Luckily, it's easy for the Dyna-Green technicians to save your turf with our lawn aeration in Mentor. 
Benefits of our lawn aeration include:  
Reduced standing water.
Drought and disease resistance.
Thicker, healthier grass.
Better soil.
Improved curb appeal.
Trust Our Satisfaction Guarantee
Aeration for your yard is vital, so we want to make sure you are getting exactly what you pay for. If you are unsatisfied with the work we provide, let us know, and our technicians will make it right and re-treat your lawn for free. Trust your local experts at Dyna-Green for lawn aeration in Mentor! 
Tree & Shrub Care in Mentor
At Dyna-Green, we understand that your trees and shrubs are just as important as the rest of your lawn. Ornamentals don't just add property value, but also sentimental value as they add character to your landscape. And just like the rest of your lawn, trees and shrubs deserve specialized care to stay healthy and thrive.
When you call Dyna-Green for tree and shrub care in Mentor, you can expect:
A thorough assessment to determine a course of care.
Seasonal insecticides and fungicides to protect ornamentals all year long.
Root-focused nutrition that aids in longevity and disease resistance.
Exclusively organic and eco-friendly products for a healthier ecosystem.
If you're ready for environmentally conscious tree and shrub care that goes beyond grass, trust Dyna-Green with your ornamentals today!
Weed Control in Mentor
It can be tempting to just let weeds grow, but these plants will quickly take over your entire property. They steal resources like water, nutrients, and sunlight from your grass, leaving you with an unhealthy brown lawn—except for the brown weeds. Instead of fighting unwanted dandelions and chickweed, trust our weed control in Mentor! We use quality products that won't harm your grass or ornamentals.
Our weed treatments in Mentor include:
An evaluation to determine what type of weeds are growing.
EPA-approved formulas for your peace of mind.
Targeted treatments to remove unwanted foliage.
Recurring services for the best results.
Unlimited callbacks between scheduled visits.
Looking For Lawn Care Technicians Near Mentor, OH?
Check out what other cities we service around Mentor: