Lawn Care in Chardon
Having a lawn that you don't feel good about colors how you feel about your entire yard. Thin, patchy, or browning grass doesn't look good and can discourage you from trying to make your outdoor spaces look their best. So instead of settling for a lawn that you don't love, work with us to receive:  
Lawn fertilization
Weed control
Grub control
Lime treatment
Fungus,
Lawn disease
And so much more!
Prompt Service from Trained Experts 
When you decide that it's time to whip your lawn into shape, it's only natural to want to get started as soon as you can. We're here to help you do exactly that! We proudly offer service from a highly-trained lawn care technician from Mentor within 48 hours of you getting in touch, so don't wait to give us a call.
Image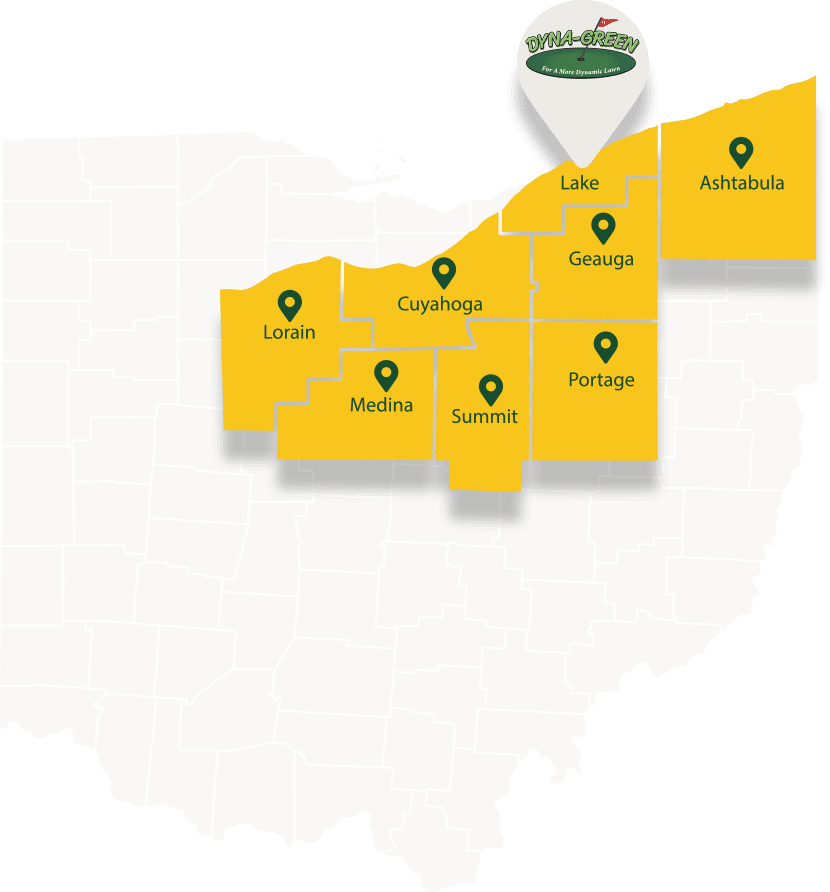 Organic, Eco-Friendly Lawn Service
Getting service from a professional lawn care company is often accompanied by fears of harmful runoffs or products that put your loved ones in harm's way. Not when you work with us, though! That's because we use eco-friendly, EPA-approved, and organic products that keep both your local environment and loved ones safe. That's just one small part of what helps us stand out from our competition, so sign up today to find out what makes us Ohio's best lawn care team. 
Our lawn care in Chardon includes:  
A comprehensive yard inspection from an experienced professional. 
Personalized treatment plans that we build around your unique needs. 
Recurring treatments every 5-7 weeks when you sign up for a lawn care plan.
Contract-free service to maintain your flexibility.
Our full price match guarantee which ensures that you'll always get the best price available.
And so much more! 
Trust our Satisfaction Guarantee 
Confidence matters when it comes to choosing a lawn care company. And why shouldn't it? After all, you deserve to feel like your preferred company has your back and will do whatever it takes to get the job done right. That's why we here at Dyna-Green back our services with a full satisfaction guarantee and FREE retreatments if you aren't happy with the job that we've done. Your dream lawn is just a phone call away so get in touch today!   
Lawn Aeration in Chardon
Is your lawn in Chardon looking weak and lackluster? The culprit may be compacted soil and a lack of nutrients. As heavy rains and foot traffic naturally compact your soil, your grass can become patchy and vulnerable to disease. Don't let your yard suffer any longer. Turn to the trusted experts at Dyna-Green for our top-notch lawn aeration service in Chardon.
Here are just some of the features and benefits of our lawn aeration service:
Promotes healthier turf
Removes excess thatch
Offers liquid or core aeration
Delivers quick results
Provides long-lasting treatments
Our lawn aeration service creates deeper root growth, maximizes nutrient uptake, and increases overall turf resilience. Plus, it's a great way to encourage greater rooting, lawn seeding and overseeding, and deeper nutrient release throughout the soil.
Tree and Shrub Care in Chardon
You may not be aware of it, but your ornamental trees and shrubs are tirelessly working for you. They provide shade, curb appeal, and fresh air, and prevent soil erosion. Why not give back to these unsung heroes with the best tree and shrub care in Chardon?
At Dyna-Green, we bring over 25 years of experience to your yard to give your trees and shrubs the care they deserve. We offer a full and thorough inspection from experienced lawn technicians who will identify any issues your trees and shrubs may be facing. Proper tree and shrub care can even increase your home's resale value significantly. So why wait? Improve your yard's appearance and value today with Dyna-Green's expert tree and shrub service in Chardon. 
Sign up for our service today and enjoy the following benefits:
Free inspection to identify any issues in your yard
Prevent soil erosion with sturdy root systems that keep soil in place
Eco-friendly treatments that keep your yard healthy and safe
Increase your home's resale value with a manicured look and thriving ornamentals
Lawn Fertilization in Chardon
Picture this: You've invested your time, money, and energy into creating a lush green lawn. But why is it underperforming? The answer is simple- it needs proper food! Don't let your grass struggle for mediocre results any longer. Give it a boost with our lawn fertilization in Chardon! With the help of Dyna-Green, our trained experts offer seasonally-adjusted applications that will make a world of difference. With our Chardon fertilization treatments, you can expect: 
Quality nutrition to keep your turf healthy
Stronger plants from root to stem
Healthy roots that will absorb nutrients and keep them longer
Eco-friendly options for weed killer and other sprays
Adjustments based on seasonality
Weed Control in Chardon
Looking for a weed removal service that can get rid of tough plants and prevent them from germinating? Look no further than our weed control in Chardon! Our lawn service uses EPA-approved herbicides to target those persistent weeds and keep them from stealing resources like water, nutrients, and sunlight from your grass. With our environmentally-friendly weed treatments, you can rest easy knowing that your lawn spraying is not harming your grass or ornamentals. Our pre-and-post-emergent weed control ensures that those pesky plants won't be popping up anytime soon. And with ongoing monitoring and recurring services, Dyna-Green guarantees the best results for your lawn.
Types of weeds we take care of can include: 
Nutsedge
Speedwell
Thistle
Dandelions
Crabgrass
White Clover
And more!