Image

25+ Years of Expert Tree and Shrub Care in Wickliffe
Satisfaction and Price Match Guarantee
Tree and Shrub Care in Wickliffe, OH
It's easy to imagine that your yard's ornamentals have simply been there forever and are indestructible. In reality, though, they're just as vulnerable as any other plant in your yard and consequently, need just as much care. Here at Dyna-Green, we give your showpiece plants the pampering they deserve, with services like:
Insecticide treatment

Disease protection

Deep root fertilization

Season-specific care 

And many more!
Set Your Yard Apart with Healthy Ornamentals
Lawns get all the attention. As the region's most trusted lawn care provider since 1995, we understand. At the same time though, healthy shrubs and trees are what truly set your outdoor spaces apart and give them their own unique character. With our tree and shrub care in Wickliffe on your side, you can expect the healthiest, most beautiful ornamentals in your neighborhood and a yard that stands out from the crowd. 
Our tree and shrub care in Wickliffe includes:
A full assessment of your outdoor spaces

to assess your specific needs.

Seasonally-adjusted care

for year-round results.

Increased root nutrition and health

. 

Healthy and vibrant ornamentals

that you can count on to last.

Free service calls

And more!
Organic and Eco-Friendly Products
At Dyna-Green, we take our work seriously and to us, part of our job is to care for both your yard and the surrounding environment. To help us accomplish this while still giving you the outstanding results that our customers have come to expect, we use exclusively organic and eco-friendly products. We're excited to show you the difference a responsible, environmentally-conscious approach to tree and shrub care can make for you!
Why Care for Your Trees and Shrubs?
If the trees and shrubs in your yard seem to be getting along just fine on their own, why give them extra care? When given the kind of help that our service provides, your healthy and well-maintained trees and shrubs can benefit you in multiple ways, including:
Reducing soil erosion

Increasing levels of clean, fresh oxygen in your immediate area.

Providing comfortable and relaxing shade in your yard. 

Adding up to 20% to your home's overall resale value. 

And many others!
Image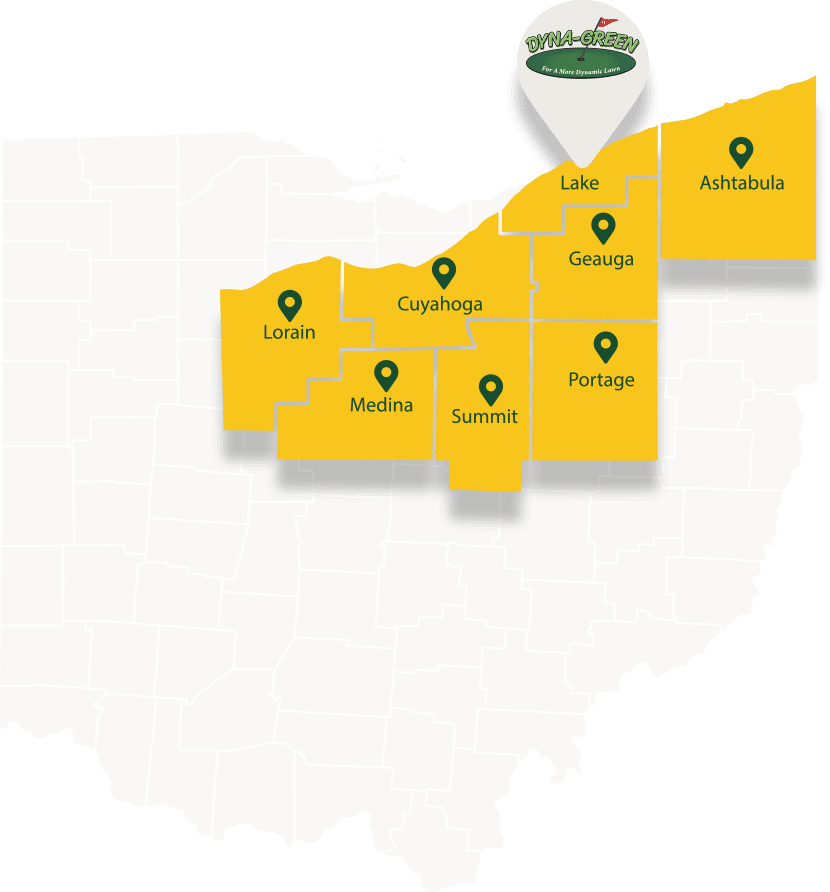 Local Lawn Care Experts
Dyna-Green Provides Lawn Care Services Around Wickliffe
We have delivered high-quality, organic-based lawn fertilization services, tree and shrub care services, seeding and overseeding services as well as perimeter pest control services to the Greater Cleveland area since the early 80s.